Meeting with Gary Clark of "The Swamp"
January 25th, 2012
|
As I mentioned yesterday, I got to meet Gary Clark from "Swamp" last month.
We originally found him because one of his characters, "Ding Duck" is an eternal flight student who is just not very good at flying. But just like Chuck, he is a very positive bird who never gives up. Through google and searching for other aviation cartoons we came across "Swamp" many years ago and loved Gary's work right away.
Years later, we were able to work with him briefly when we were collaborating while putting together the Martin Leeuwis books of aviation comic collections from all over the world.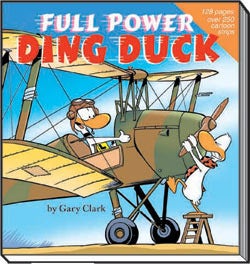 While meeting with Gary in Brisbane, I found out that "Ding Duck" now has his own book. It's a huge collection of all kinds of flight school, duck flying, and military duck cartoons and it is funny!
It was great to see how other cartoon artists work and what their inspirations are.
Check out Gary's website. I promise you, youll be hooked!
Ding Duck book now available in our shop
The best thing for all the Swamp fans out there in the States: We now have the "Ding Duck" book in our shop! As far as we know, we are the only ones to carry it in the US, so if you always wanted to have it, but didn't want to pay the shipping from Australia, here's your chance!