Christmas Sale and new Ding Duck book!
December 3rd, 2012
|
As every year, we have a special Christmas Deal for you! Get your orders in early, so you can receive delivery before the end of the world at December 21st!
The offer is valid in our US Online Shop, as well as our European Online Shop until December 12th. Don't forget to enter the discount code "CHRISTMAS" at checkout!
New Ding Duck Book!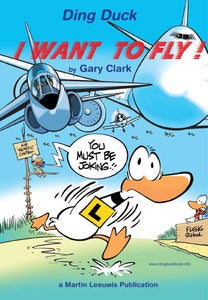 We also proudly present the newest book by Gary Clark, "Ding Duck – I Want To Fly", featuring the famous Ding Duck from the highly successful comic series "The Swamp" coming out of Australia.
This book is a snapshot of the wonderful and diverse world of aviation…It is about Commercial Air Transport, Military Jets, Helicopters, Aerobatics, General Aviation, Recreational Flying, and… Duck. Mostly it's about Duck aviation… In particular one unique Duck named Ding.
Available NOW in our US Online Shop, and available in just a few days in our European Online Shop!
Merry Christmas Shopping everybody!